I'm actually not surprised that 15 years post his passing, Biggie still has a heavy influence in the music industry. On Friday at Lil Cease and Faith Evans' tribute to B.I.G in NYC, Cease, Maino and Uncle Murda squashed their decades-old beef and jumped on stage together. That's huge!
I also had the pleasure of interviewing Cease A Leo *Biggie voice* for Sway yesterday – he opened up as to why he thought Lil Kim didn't show up to the party, and who Biggie woulda loved to work with if he was still alive. More after the cut.

Why was last night important to you?
Everyone was there to celebrate the life of Biggie on his 15th anniversary. We had a bunch of people there to pay tribute to his legacy. It was a place where we were all able to come together and celebrate his music and life.
Who was there?
Faith, his first child's mother, his kids, Junior M.A.F.I.A, Red Man, Foxy Brown, Maino, Uncle Murda, AZ, Papoose, Fred the Godson, and of course Sway. The line was so long to go in. When we pulled up and saw that line, it totally erased the pain. Seeing everyone there, it just put you in automatic celebration mode.
What about Lil Kim?
We invited her, but I guess she chose to not come. There was no problem with her. We always show love. Maybe it was just schedule confliction. I don't know, but we did invite her.
Who came on stage?
Faith got on to talk about Biggie, Maino did 4 of his records, Uncle Murda did 3 of his, we all jumped on stage together, Papoose did his favorite Biggie record, then Junior Mafia did Playas Anthem and Get Money – then we closed the show with my Letter to Big. We came together for B.I.G. This is the type of stuff he would have wanted. It was definitely something great.
What did Maino and Uncle Murda say to you?
We didn't really get to talk because we all got on stage at the same time. It was all about B.I.G though. It wasn't about us. It was all about biggie. It was a Brooklyn thing.
How were Biggie's kids and their mother's getting along?
They were all cool. People don't get that Biggie's children's mothers [Faith Evans and Jan] are super cool. They're grown and mature. They put their differences and issues aside. It was all about Biggie.
If Biggie could have witnessed last night, what would he have said?
He woulda loved it. Big up to Brooklyn. The way it went down was perfect. We celebrated music and life. No scuffles. No fights. All good vibes. This was one of the best tributes I've ever been to.
If Biggie were alive, what new artist do you think he'd want to work with?
Definitely Eminem. Definitely.
What about you? What new artists would you want to work with?
I like Tyga, I like Drake of course. I like Ross. I like Eminem. I'm just a fan of music and hip hop. Anything that puts a ring in my ear, is what I like. Any artist that wants to work with me, I'd work with. I just like music.
What's next for Lil Cease?
We're working on a Junior M.A.F.I.A album and dropping it on Biggie's birthday, May 21st. My album Truth Be Told is 95% done and will be dropping next month. Also, I have a work-out Hard Body Fitness company. My second fitness DVD for women is dropping next month on HardBodyMusic.com. Follow | @LilCease
Interview by @NickyGeezy
Lil Cease, Uncle Murda and Maino on stage together.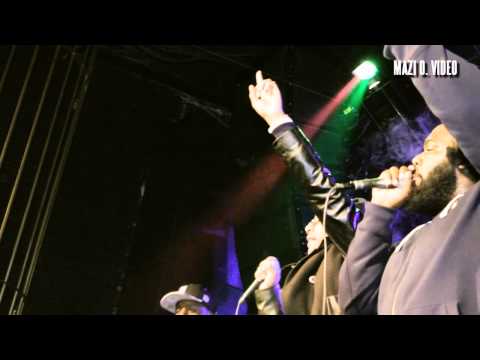 Lil Cease performs "Letter to Big"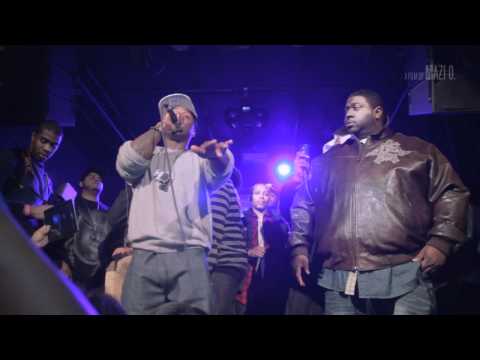 Lil Cease, Biggie's first born and Sway

Lil Cease, Biggie's first born and Sway

Papoose on stage